What's new in kids' programming ?
World TV updates - March 2018
Published on 14.03.2018
In 2017, fun and adventures were highlighted in kids' programmes with new animation and game shows, all detected on our new service, NoTa kids.
Animation at the service of humour and satire
Over the last months, new kids' series renewed the comedy genre and offered stories based on non-verbal humour or derision, like Superprod's Pat the Dog, extremely successful on the preschool target on the American and Spanish Disney Channels, as well as on Boomerang in the United Kingdom. Bingo and Rolly, the puppies from Puppy Dog Pals, also made their way to young children's heart on the Disney channels in the US, Russia, Italy and the United Kingdom.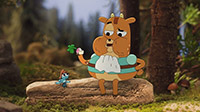 In January, Turner launched its first series produced by a Danish studio: The Heroic Quest of the Valient Price Ivandoe, a mock-epic series in 10x3' combining animation and live action backgrounds, in a style comparable to The Amazing World of Gumball. The series stars Prince Ivandoe, a silly young knight sent on an epic quest.
These recent successes follow the tracks of Millimage's Molang and Studio Hari's Grizzy and the Lemmings, both non-dialogue comedies now airing in free to air in Europe.
Game shows flourish across all territories
Over the past few months, children's channels have put game shows at the heart of their programming.
The notions of fun and challenge were brought to another level in brand new shows.
On TV Tokyo in Japan, Yan Challenge features children trying to beat new records from the famous Guinness World Records.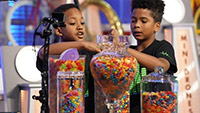 Children are expected to do their best in The Noise (Universal Kids – USA). Adapted from the Japanese format, children must complete various tasks, such as opening a bag of chips or sitting on a fart cushion – silently.
Among the new launches were several game shows directly inspired by pre-existing brands.
Produced by Turner Broadcasting System, Ben 10 Challenge is a game show from the Ben 10 franchise, which is already composed of 5 popular animated series. 2 teams (made of two children and one adult like the heroic trio from the original series) compete in mental and physical challenges and are tested on their knowledge of Ben 10. The game show was adapted in the United Kingdom, Spain, Italy and Germany and is broadcast on Boing and Cartoon Network.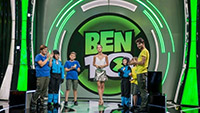 In the United Kingdom, children were immersed in a Middle-Age inspired decorum in Raven Returns (CBBC). In this renewed version of the 2010 game show, the contestants go through physical games, such as archery and obstacle races, and rounds of elimination. Once crowned Ultimate Warrior, the winners help Raven, an immortal warrior played by actress Aisha Toussaint, and fight the evil wizard Nevar.
On Super RTL (Germany), the reboot of Super Toy Club brought back the race for toys: each team compete in games of skill, such as Jenga or Twister inspired games, to win toys. The best team gets to enter the last challenge, which takes in a giant toy store.
Other well-known shows have also been adapted to feature kids. In the United States, Universal Kids (previously known as Sprout) broadcasts Bear Grylls' Survival School, in which a group of children are taught survival tips by Bear Grylls' himself, from Man Vs. Wild and The Island. In the end, the children are dropped on a mountain and must navigate their way back to graduate.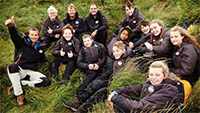 In October, the channel also premiered Top Chef Junior, in which 12 young chefs compete to become the best cook.
Source: Médiamétrie / Eurodata TV Worldwide / Relevant partners