What are the new themes in 2017 to capture the audience's interest worldwide?
World TV updates - February 2018
Published on 10.01.2018
Programmes presented in this article are selected on the basis of the ratings criterion and we have looked at what they have in common. That lead us to 3 big themes that reflect somehow our world. A plural world is the first theme we have identified. The audiovisual industry and the world are going through a period of turbulence that is materializing in TV.
In our view, 2017 was marked by our everyday issues being reflected in TV: our world is divided; people don't know which way to turn; there is a need to escape. New series such as Romper Stomper (Stan, DCD Rights), Liar (ITV, All3Media International) and the format The Big Escape (NPO3, Warner Bros International) illustrate that.
Our world is divided - true! But - luckily - the audience is on hand to show us a way out of this!
In troubled times, people turn to classic ideas like family, national identity and nostalgia; these are the safe havens in which people take refuge to see out the storm. These include examples such as The Big Family Cooking Showdown (BBCTwo, Voltage TV), National Treasure (CCTV3, CCTV International Media) and Lego Masters (Channel 4, Tuesday's Child).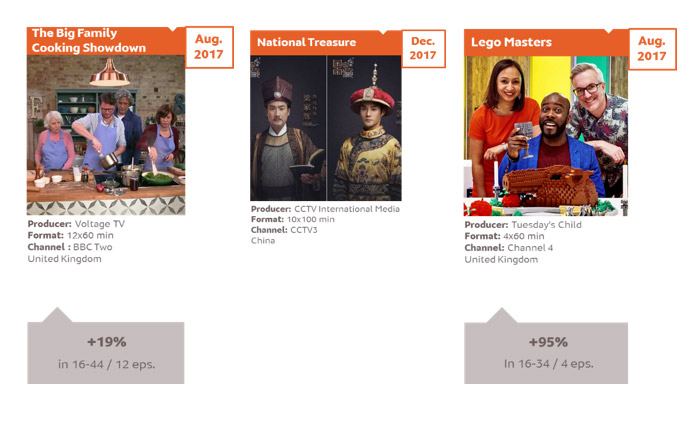 Representation of the family remains indeed a safe bet in television. It is the best way to bring generations together in front of the box, in the living room. Launched to replace BBCTwo's great hit The Great British Bake-off after it went to Channel 4, The Big Family Cooking Showdown takes up the codes of a culinary competition but integrating the whole family, with their specialities, their good humor and their differences. Generations stick together to give the best.
Amidst all that, original ideas and experiences are emerging: television inspires us with life changes, jobs and passions. Novelty is also coming from seniors who are playing an ever-increasing role in programmes, and from science and technology which are offering new ways to tell stories. Upcoming Alex Inc., The Voice Senior and freshly launched Denmark Koden Til Kærlighed (The Code for Love), based on an algorithm that determines which couples are scientifically compatible, are part of these emerging trends.
In the past years, children were used to rejuvenate talent shows. With the Voice Senior, a new breath of fresh air comes from the senior end of the age groups.
Source: Eurodata TV Worldwide / Relevant partners – All rights reserved