Kids: top 3 most watched shows
Kids TV
Published on 14.11.2019
It doesn't take long for animated series to become international classics. The children's series enjoying the highest number of hours viewed in the 5 main European markets are not necessarly the ones that rely on the largest catalogue.
First of the Top 3 most watched shows in these countries, Alvin and the Chipmunks is the show that achieved the best number of hours viewed thank to an exposure on free to air channels in all 5 countries. It totaled 81.7 million hours viewed from January to June 2019. Animated series SpongeBob SquarePants and Miraculous Ladybug come second and third respectively.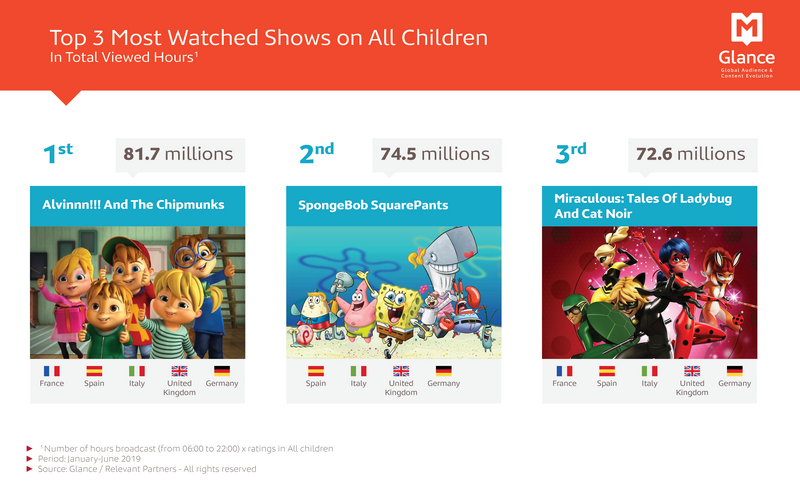 The series with the best combination exposure/audience are not necessarly the ones that rely on the thickest catalogue of episodes.
With only 3 seasons available (156x11'), Alvin was broadcast more than 2,500 times over the period by broadcasters like POP in the UK and K2 in Italy.
Likewise, while Miraculous Ladybug had only 2 full seasons released, it aired around 1000 times on two major channels, the Spanish Disney Channel and Super! in Italy, which proves that a high rate of rebroadcast doesn't always bring mediocre ratings.
Conversely, SpongeBob, in its 12th season, is an example of long-running title children don't get tired of. On CLAN, the leading Spanish children's broadcaster, it was the 3rd programme with the best average ratings in the country despite 2331 broadcasts.
If we focus on the Top 3 most watched shows in Germany, we can observe different combinations between exposure and audience.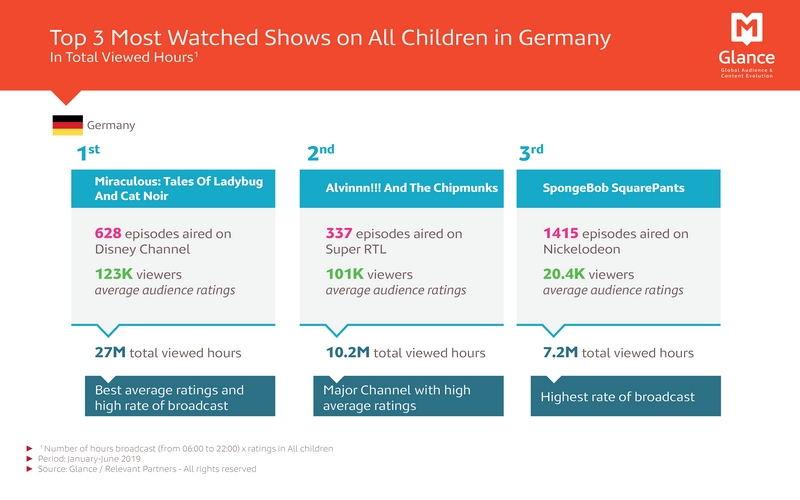 The best combination exposure/audience can either rely on a high number of aired episodes or the best average audience ratings.