OTT in Germany: focus on the local online platform JOYN
In a global competitive VOD market, how JOYN became, in a few months, the largest free video streaming service of the country?
Launched in June 2019, Joyn has changed Germany's OTT market by becoming in few months the largest free video streaming service of the country. Through a two-phased strategy, the 50/50 joint venture of ProSiebenSat.1 and Discovery is now a local substitute to what global giants Amazon and Netflix offer in the country.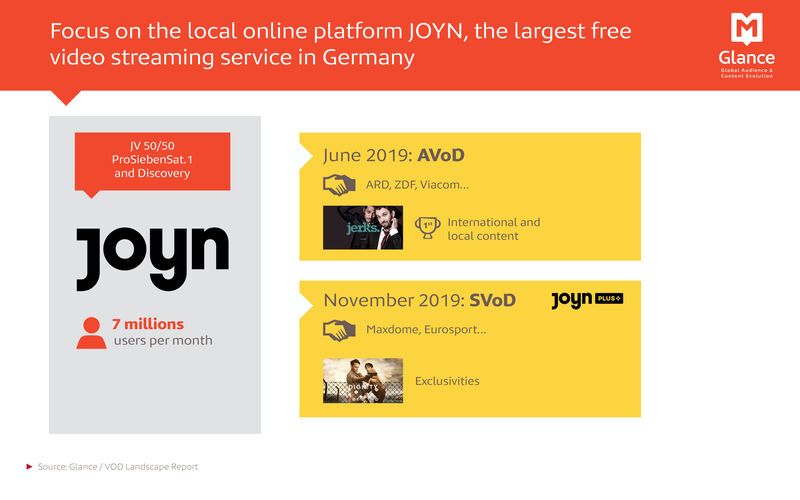 Starting as a classic AVoD service, Joyn (formerly known as 7TV) has access to the live stream, the preview and the catch-up windows of more than 60 TV channels thanks to partnership made with other major local (ARD/ZDF) and international players (Viacom). In addition, the platform features original local productions. For instance, Jerks, the German adaptation of the Danish comedy series Klovn starring popular actors Christian Ulmen and Fahri Yardim, is since season 3 exclusively available on Joyn. It is Joyn's most watched show.
In November 2019, Joyn transitioned to the freemium model by adding a SVoD service to its platform. The premium offer called Joyn PLUS+ includes all the content of Joyn in HD without ads, along with the on-demand services of Maxdome and Eurosport. It also features exclusive TV series, such as the Chilean-German thriller Dignity, and aims to offer lots of new local productions, as 10 to 12 original formats are currently in production.
Thanks to its impressive media library composed of international hits and exclusive local contents, this unique OTT is a success with currently more than 7 million users per month. In 2020, the platform will try to differentiate from other streaming platforms by expanding its content diversity through entertainment, magazines or comedies. It remains open to collaborate with both linear and online players, hereby standing as a true bundle, which is where it all started.